I always thought of myself as a plant killer and believe me I have killed a few plants, but in November I got some succulents to
make some terrariums
along with some other plants that according to their descriptions, were low maintenance.
Well, here we are about four months later, and they have all seem to have made it, only some of the succulents die, but over all everything survive and some actually got bigger. I decided to separate some of the, along with making some new terrariums for a big container I got to put in my coffee table (once I actually finish it) hahah.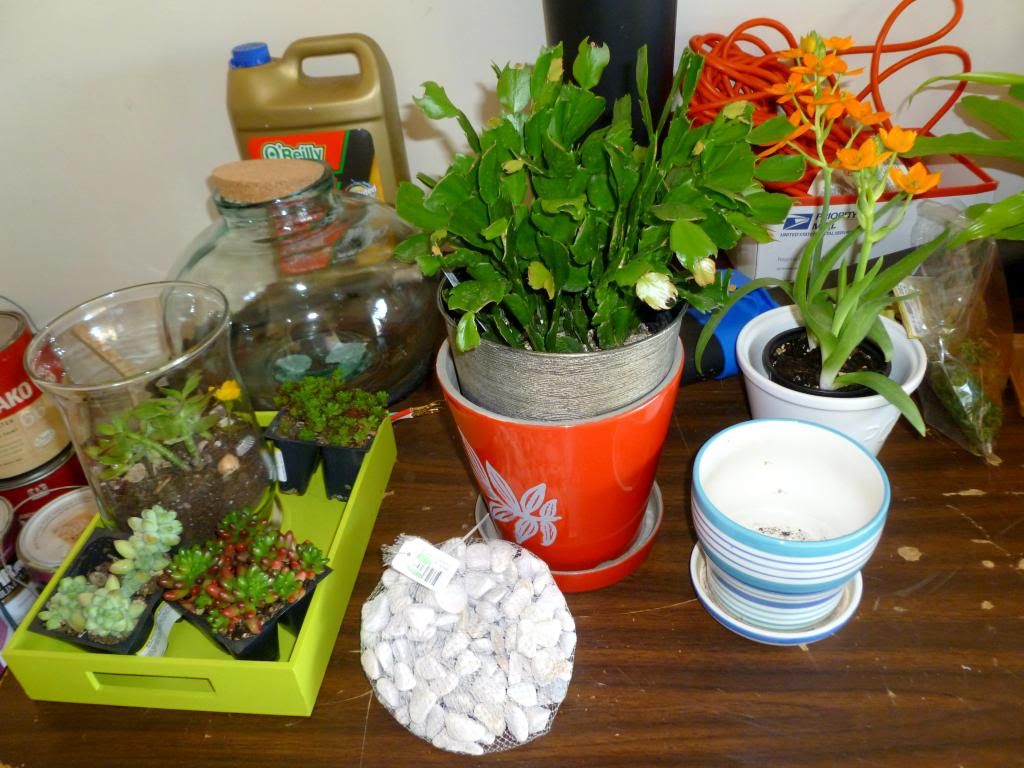 I started by taking all of my plants out to the garage so it wouldn't get messy
I also gather some containers for the new plants.
I started with this cutie, which has grow quite a bit since I got it, I believe it really likes it where is been so far, so I decided to split it and make two out of it.
I shook off the dirt first and made my way trough the roots trying not to rip them, obviously some will still tear but it should be out.
From that I got two, and I love them. The rich color makes them stand out.
I did the same for this one, which I got at Ikea and is actually doing really good.
I use this two containers for them, but since they need drainage for water I added some rocks to the bottom that should still allow the water to drain from the dirt and not stay soak, although this plants don't need much water.
Don't they look great, and the white containers look great against the green and orange.
Now this one has grown quite a bit too, but I decided to leave it the way it is for now, what I did do was change the container.
I love this red pot isn't it pretty.
Now this is the new container I got for the big terrarium I want to put in my coffee table. So I got some more succulents, I bought this back in December but once again it took me forever to actually make it.
By this time I had already got some more at Lowe's, they have some cool funky ones now.
It pretty much ended up looking like this.
You can't see inside of it as much as I would of like to, I might of had put to much dirt, and they ended up a bit to high.
By the time I was done with it I still have a lot of them left since I split them up so I just made more
I didn't have any big containers any more, so I just made several small ones, but even then I still had some left. I decided just adding more to the ones I already had, since some of them had dry out.
Finally, I used them all.
Once again brought them inside, and set them out throughout the house.
Lets hope they keep blooming as good as they have been.
Each one was able to find a place ether in the living room or kitchen/breakfast area
As ya might notice I have seem to have started a new animal collection, hopefully I can show ya my brass animal collection tomorrow stay tune.
Over all I really liked how this one came out, I'm planing on buying some mini animals or something to add some type of decor to it. I saw some cute egg nest at Micheal's the other day, so that might be something I get.
I really hope my plants keep doing as good as they have, I have also got some peony bulbs, which I still need to plant, hopefully they make it and I can get some pretty flowers.