You know how some times you want that certain piece of furniture, but you don't seem to find one you like (at a affordable price) or you put it behind until you feel like you can actually afford it. Well that's the story with my accent chairs. I been wanting some for the past two years, but I ether buy other stuff or can't find something I really like or they're just to much money. Well back in January I was just browsing my usual sites for furniture, sales and home decor, one of them was world market, as I was browsing their accent chairs I found two that I really liked.
The first one will be this one
What I really like about this one is that is within the same color scheme I have in my living room, and I also loved the two front wheeled legs, but I also felt like I already have way to much green with the walls ( which I been thinking if I should paint but, that's another story) so I kept it as an option, but kept looking. which brought me to my second option
Now this one, would actually match my couches with the beige color, and still has pops of red, yellow, green and blue that I have in the house, I also love that is deep and has high rest arms. I decided to that this chair was they way to go. I checked online for my local store see if they had it in stock, and according to it, it was but when I went to the store I ended up finding out that they really didn't have it. In the other hand they did have the green chair, but once I sat on it and saw it in person I wasn't very trill with it. The color was very dull, now for sure I new I wasn't gonna go with it. After one of the person working there told me that the red floral one would take until April to come in stock, I felt like I didn't want to wait, I told her I would look around and see if there was anything else I might like. I sat in several ones, but one of the problems I was having was the fact that I wanted the chair to be cozy and deep, most of them were very firm and to narrow, I wanted a chair you can make yourself into a ball with a blanked on a rainy day, you know what I'm talking about??!!!!
Then, I found this chair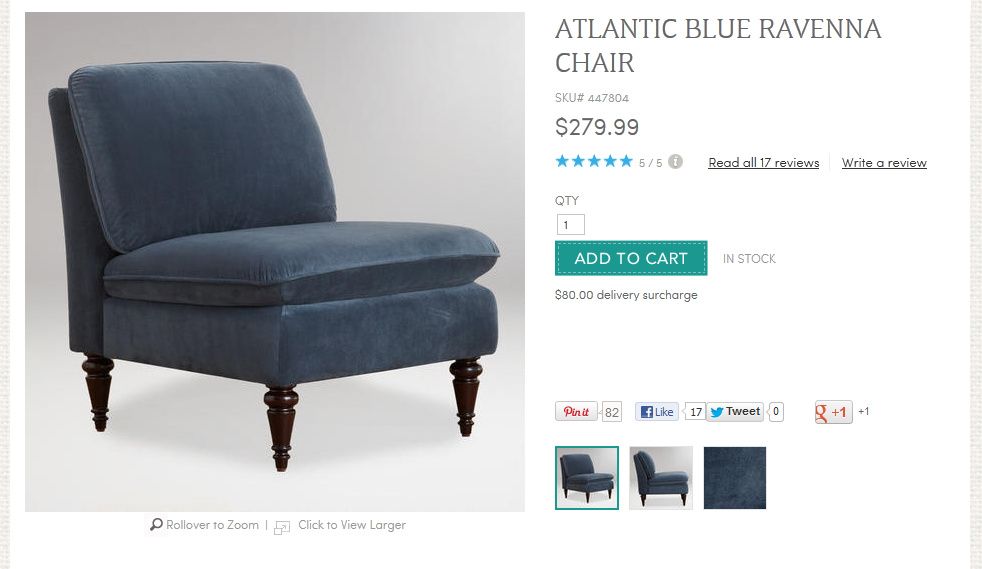 I came to like this chair because, it was very soft thanks to the velvet fabric, supper comfy and deep. I really wanted for it to have some arm rest but over all it was awesome, I was feeling again like I might actually walked out with some chairs. The color is blue so I new it would also look great and go with my rug. So, I went for it, I asked them to give me two; but once again I was heart crush when they told me they only had one in stock, plus the one on display. They did told me that new stock should be arriving in about two weeks and that they could give me a rain check for it, and hold one for me. I decided to go ahead and take one and wait for the other one to come in, at least I knew I could pay for one that month and by the time the other one come in it would be the next month, so I went for it.
I didn't want to to pay full price so, I printed a 10% coupon, which save me about 25 dollars off which is better than nothing right. I took it home and assembled it, which was not hard at all it was just attaching the legs and back. Once together I really loved how comfy and soft it was. Finally two weeks later I got a called telling me that the chair had come in, and for my surprised now they had it on sale for $250 and I still had the %10 coupon, so I actually only paid $225 for this one which made me a little sad paying full price for the other one hah!, I was very excited to take it home and put it together, but then I was very disappointed once I did. Since that chair was not from the same assembly line as the first one, it was made differently, it was shaped wrong, not as soft or comfy as the one I already had.
I'm not sure if ya can see it, but the one in the right is bigger, and shaped weird, I just didn't like it, so I called World Market and see if I could return it and get another one. They said yes, so I went ahead and took the chair, now when they brought the new box I told them if I could open it to make sure if it was the right one I had already gone three times by that time and I really didn't want to come back with it another time. Sure enough it was the same as the one I DIDN'T LIKE, like I said I guess the line wasn't made the same as the previous one. this one seem to be a foam shape cut out while the first one seem to be filled in so it was way softer. I realized that all of them were gonna be the same, so I decided taking the one they had in display since it was the same one I had, now by this time they had this chair for sale even lower $199 so I told them if they can mach me the price since it was a display one. They agreed and I ended up with 27 dollars back in my pocket hahah !!!!!!
The good thing about taking the display one was that it was already assemble and didn't have to put it together. phew!!!!
So here it is both chairs at my casa
I don't know about you but I just love how they look, and the good thing about them being a solid color is that no matter if I change the theme of the living room they can go with so many colors, that's they good thing of having your furniture neutral colors that you can just change the theme with other accessories.
Each one is so comfy that you can just snuggle on it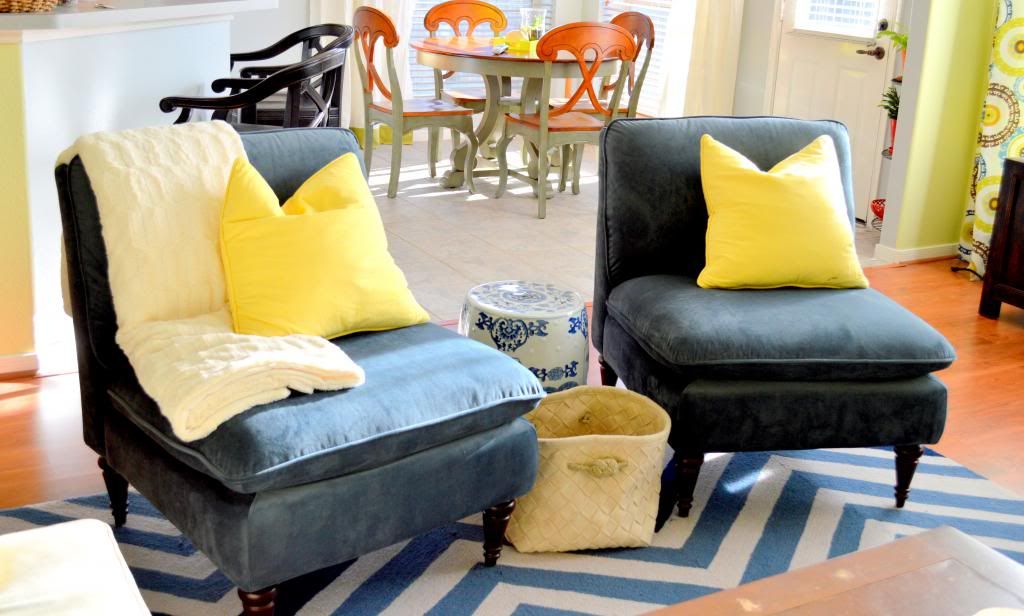 In a way I'm glad that they don't have arms, because they still make the living room feel open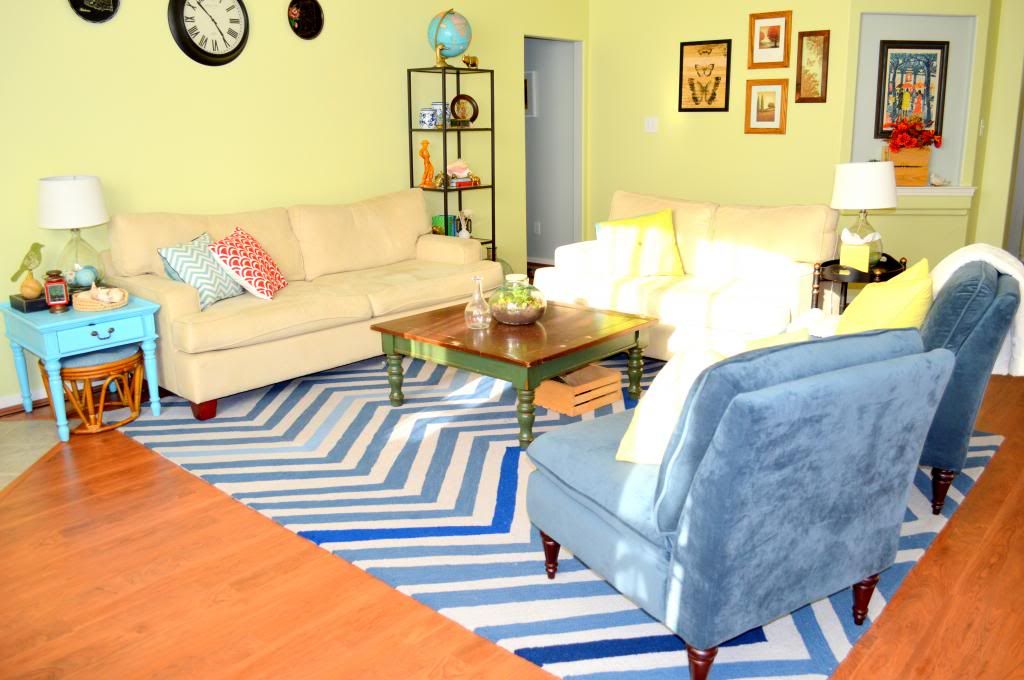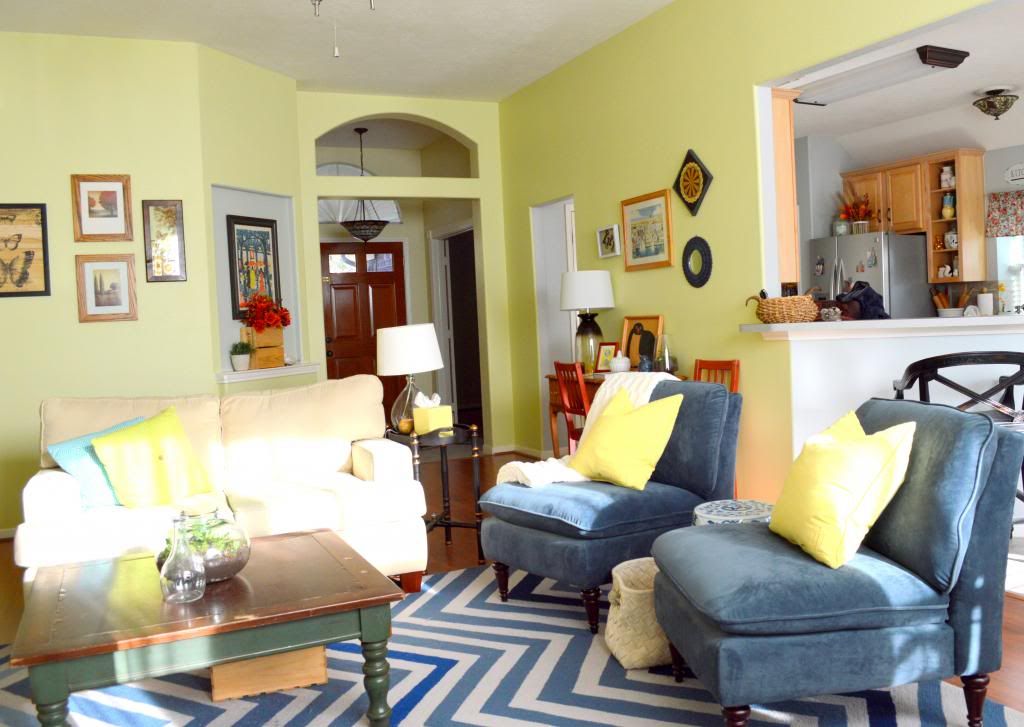 What about those
curtains
, how ya thing they look