I think that one of the reasons why my craft room is been a mess, or any room for that matter, is because storage is very important. Storage helps you be more organized and to have your stuff neatly put away. As ya remember I talked a little about some of the storage I had in
this post
.
Well one of them was this red "C" letter locker kind of thing.
Now,unfortunately there's no "C" in my last name but it is a "craft room" so I figure it would be "C" for CRAFT. For 5 dollars, who wouldn't find a way to make it work right?
I have finally got to a point where I have a better idea of how I want the room to look, and where I want to place each thing. After finishing hanging the curtains
it looked like this
I left the bookcase next to the window since the back of it has almost the same patter as the curtains, which I didn't do on purpose I ended up noticing later on, I guess in the back of my mind I already had the idea. Anyways. I decided to try and see how the locker would look right above it, and I have to say it work very well.
It totally makes the whole thing come together, don't ya think?
And, what about the storage, is great how much stuff fits in it. I have yet to fill it in but I have I few things.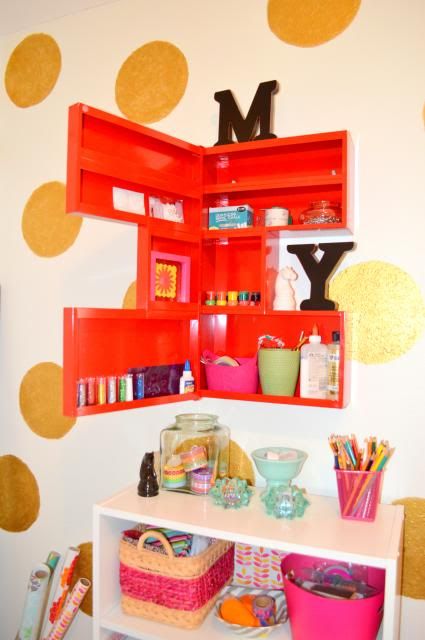 It's great since you always have a few things that you don't exactly want to show, but you still want to have available, and this thing is great at it.
I have a few glues, paints, chalk, safety pins, needles.
Glitter (not that is not great to show off by the way).
As for the rest of the book case, I been trying to put everything into cute little containers, where they can look better.
Like a jar for ribbons, blows for pins and little googly eyes (if you look closely haha) color pencils.
A lot of times when you display stuff, is so much easier to find it once you're looking for it.
This is the case with some letter stamps, or color thread.
Books are also great for display.
Like I said, there's still stuff for me to fill in but, I'm so happy is coming along and that is one less thing to worry about,, what do you guys think? do you like it or not? I did thought about painting it but, I do believe that every room should have a pop of red. (Not that the room need they pop huh) hahah